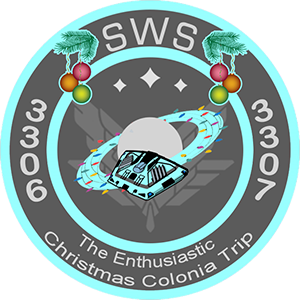 Oznámení expedice
Welcome to our expedition, an introductory trip for new explorers which combines features from 2 other expeditions;
The regular Christmas Trip to Colonia which has been running for 5 years and can also be found here on EDSM's Expedition page

Some of the early stops on Distant Worlds 2, the largest expedition in gaming history where ~13000 players signed up for an epic 4 month trip to the edge of the Galaxy
Plus a few Places of Interest we have chosen that are not too far off the beaten track but well worth a visit.
This year we are planning on taking a Christmas, or whatever holiday you celebrate at the end of the year, trip to Colonia alongside the Sidewinder Syndicate. We will be taking cargo of rare goods and other things you would have at a party to Jacques Station in Colonia to bring some End of Year Cheer to the people in humanity's second bubble! So load up your best cargo hauler or pop onboard the supporting fleet carrier for a fun filled adventure out to Colonia. We'll be making three major stops between The Bubble and Colonia and have planned some fascinating points of interest along the way to take a look at. Ever landed at The View? How about seen Thor's Eye? Want to go canyon racing in an SLF on Labirinto? Why not try your hand at SRV soccer with a Guardian Orb? All this and more to be had while travelling to Colonia with The Enthusiastic Christmas Colonia Trip!
We will also organize many activities or "shenanigans" on multiple stops in the trip: ever heard of SRV soccer? SRV DERBY? Or maybe you are more of a scenic wing fighting person (thanks to the facilities fleet carriers provide). Stay tuned for announcements regarding these potential activities!
Carriers are not core part of the expedition, just mobile bases that will jump around POI's or to host fleet parking. Make sure to bookmark them, it is not mandatory to park or jump along with them.
If anyone has additional random questions not mentioned here dm me please -> Lovecraft#6649
11/18/2020 NEWS:
11/26/2020 NEWS:
UPDATE: Tritium Community Goal: Completed! Thank you!
Once in the Discord type !colonia to access the exploration channel.
[12/13/2020 NEWS:]
Expedition is officially on Stage 3 we are currently scouting and exploring POI's that have been given out in the discord. This means we are in our third official week and are headed for Eord Flyuae VP-W d2-2699 (Diamond Necklace).
[12/24/2020 NEWS:]
WE ARRIVED TO COLONIA. Made a mass arrival event that probably will be on video soon. Thanks to everyone for participating in this trip with us.
We have also plenty of videos for everyone to watch
Časovač expedice
Tato expedice je dokončena.
Celková procestovaná vzdálenost
Commanders self destructed