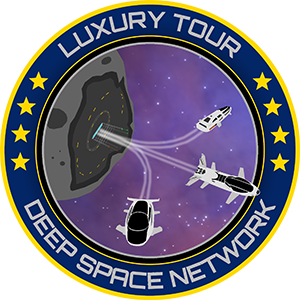 Oznámení expedice
The Deep Space Network is pleased to announce its new expedition: The DSN Luxury Tour !!!
This expedition proposes a circuit of 21 asteroid bases located on the periphery of the bubble, using only Saud Kruger luxury ships (Beluga Liner, Orca, Dolphin).
The main route is 44 000 Ly long and allows to visit 17 Nebulaes and 2 Planetary Nebulaes.
The full itinerary (offering free optional waypoints), for a trip of 68,000 Ly, allows to visit up to 36 Nebulaes, 15 Planetary Nebulaes and one mega-ship.
This unique expedition will allow to see a lot of absolutely awesome nebula (Most were hand-crafted by Frontier and not procedurally generated), never moving more than 7,500 Ly (9,000 Ly for optional waypoints) from Sol. In addition, the asteroid bases at each waypoint allow a safe trip despite its length.
Characteristics of the expedition:
Bilingual: French and English
Departure on October 22, 3303 (2017)
Return on December 17, 3303 (2017)
Only Saud Kruger ships are authorized: Beluga Liner, Orca and Dolphin
All the main waypoints are asteroid bases, offering fuel, repair and restock
Some asteroid bases offer also Outfitting and / or Shipyard (see map of the route)
The expedition, organized by the, will be exclusively managed on the DSN server: https://discord.gg/feaaaZT
For security reasons (considering the proximity of the bubble) and ease of management, the expedition will take place in the DSN private group (access on request, in the DSN discord).
For more details, see :
Official expedition post in EDFR, in french
Official expedition post in ED Forum, in english
Official Roster of the expedition
The Deep Space Network team.
CMDR Kazahnn Drahnn, CMDR Alistair Hope, CMDR Mist0, CMDR OhPif, CMDR Xydhroz, CMDR Jeff441 and CMDR NeighSieger (U Mad Bro Banana).
Časovač expedice
Tato expedice je dokončena.
Celková procestovaná vzdálenost
Commanders self destructed
| | | | | | | |
| --- | --- | --- | --- | --- | --- | --- |
| #1 | T Tauri (Hind Mine / Hind Nebula (T Tauri)) | | | | | |
| #2 | Lagoon Sector FW-W d1-122 (Attenborough's Watch) | 5 062,91 ly | | | | |
| #3 | Trifid Sector IR-W d1-52 (Observation Post Epsilon) | 5 777,68 ly | | | | |
| #4 | Omega Sector VE-Q b5-15 (Omega Mining Operation) | 6 622,55 ly | | | | |
| #5 | Eagle Sector IR-W d1-105 (Eagle Sector Secure Facility) | 8 140,04 ly | | | | |
| #6 | Crescent Sector GW-W c1-8 (Medusa's Rock) | 14 264,26 ly | | | | |
| #7 | Sadr Region Sector GW-W c1-22 (Sadr Logistics Depot) | 17 443,41 ly | | | | |
| #8 | FW Cephei (Iris Vacations) | 18 318,43 ly | | | | |
| #9 | GM Cephei (Elephant's Trunk Mine / Elephant's Trunk Nebula) | 19 579,91 ly | | | | |
| #10 | NGC 7822 Sector BQ-Y d12 (Gorgon Research Facility) | 20 504,13 ly | | | | |
| #11 | Heart Sector IR-V b2-0 (Farsight Expedition Base) | 25 401,46 ly | | | | |
| #12 | Soul Sector EL-Y d7 (Base Camp / Doom Geysers) | 25 737,78 ly | | | | |
| #13 | Crab Sector DL-Y d9 (Station X) | 31 575,41 ly | | | | |
| #14 | Jellyfish Sector FB-X c1-5 (Beta Site) | 33 808,17 ly | | | | |
| #15 | Rosette Sector CQ-Y d59 (New Beginning / Rosette Nebula) | 35 433,69 ly | | | | |
| #16 | Seagull Sector DL-Y d3 (Hell Port) | 37 510,98 ly | | | | |
| #17 | Thor's Helmet Sector FB-X c1-5 (Sagan Research Centre) | 37 800,16 ly | | | | |
| #18 | Flaming Star Sector LX-T b3-0 (Flaming Star Logistics Centre) | 40 850,93 ly | | | | |
| #19 | PMD2009 48 (Orion Nebula Tourist Centre) | 41 949,50 ly | | | | |
| #20 | HIP 23759 (Witch Head Science Centre / HIP 23759 Geysers / Witch Head Nebula / Barnacle Sites - Witch Head Nebula) | 42 376,42 ly | | | | |
| #21 | Pencil Sector EL-Y d5 (New Growth / Pencil Nebula (NGC 2736)) | 43 278,24 ly | | | | |