Starting date
Apr 9, 2021, 12:00:00 PM
Arrival date
Apr 21, 2021, 9:00:00 PM
Starting system
Veroandi
Waypoints
30
Arrival system
Nervi (Mount Nerverest)
Participants
36
- Abandonment
22
- Success
14
Estimated distance
81,078.08 ly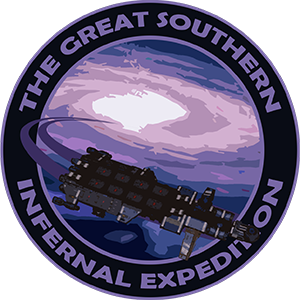 Expedition announce
There are many spectacular sites planned for this rodent shaped voyage, and we will try to push further south than any commanders have been before! We will also go high above the Galactic Plane at the beginning of the voyage at the Lemon Slice Nebula.
All are welcome on this voyage! The carrier will make it easy to see all of these destinations as you simply dock on the carrier and it will take you there.
D SCAN WLL SOON B OVER will depart Veroandi on Friday April 9 at 12:00 UTC. If you would like to come with us, please join the discord server for the expedition: https://discord.com/invite/dscan
Expedition timer
This expedition is finished.
Commanders self destructed
| | | | | | | |
| --- | --- | --- | --- | --- | --- | --- |
| #1 | Veroandi | | | | | |
| #2 | GCRV 950 (Little Dumbbell Nebula) | 2,139.04 ly | | | | |
| #3 | S171 37 (NGC 7822) | 3,269.14 ly | | | | |
| #4 | NGC 7822 Sector BQ-Y d12 (Gorgon Research Facility) | 3,289.07 ly | | | | |
| #5 | NGC 40 star (Bow-Tie Nebula) | 4,018.96 ly | | | | |
| #6 | BD+83 357 (Lemon Slice Nebula) | 5,996.91 ly | | | | |
| #7 | Slegou LU-N b21-0 (The Racetrack) | 9,941.01 ly | | | | |
| #8 | 2MASS J02351897+6131236 (Fireflies) | 11,504.28 ly | | | | |
| #9 | IC 1805 Sector DQ-Y e3 (Altera's Eye / IC 1805) | 11,798.37 ly | | | | |
| #10 | RS Persei | 13,339.34 ly | | | | |
| #11 | Eafots LZ-H b10-0 (Formidine Rift Abandoned Settlements) | 14,237.21 ly | | | | |
| #12 | Phrio Hypue AA-A h0 (Three Angels of Death) | 15,522.90 ly | | | | |
| #13 | Gongae QW-L c24-0 (Dreamer Blush) | 21,543.86 ly | | | | |
| #14 | Dryaa Phoe WV-C d0 (Serebrov Beacon) | 22,626.91 ly | | | | |
| #15 | Hyueths HS-H d11-5 (DSSA DLNV Leo's Vision / The Twins' Garden) | 25,471.43 ly | | | | |
| #16 | Hypuae Euq SY-S d3-0 (Livingstone Point) | 28,737.59 ly | | | | |
| #17 | 3 Geminorum | 31,609.05 ly | | | | |
| #18 | Aidohs JI-A d14-0 (The Aidohs Platforms) | 31,900.39 ly | | | | |
| #19 | Hypoe Dryou FR-B b47-0 (New Zealand Cluster) | 40,142.16 ly | | | | |
| #20 | Lyed YJ-I d9-0 (Amundsen's Star) | 41,892.30 ly | | | | |
| #21 | Eol Hypa GE-E d13-2 (Australis Ferris Wheel) | 50,392.35 ly | | | | |
| #22 | Plae Thaa NH-V d2-9 (Nye's Bowtie) | 59,813.56 ly | | | | |
| #23 | Gludgou QT-H d10-0 (The Gludgou Plates) | 62,202.88 ly | | | | |
| #24 | Gludge IS-T e3-0 (Gludge Planetary Nebula) | 66,859.30 ly | | | | |
| #25 | Eafoff LN-Q d6-0 (The Eafoff Anomoly) | 68,941.10 ly | | | | |
| #26 | Gludgooe PY-Z d13-2 (The Gludgooe Campfires) | 73,528.90 ly | | | | |
| #27 | Seagull Sector DL-Y d3 (Hell Port) | 75,860.39 ly | | | | |
| #28 | HD 53041 | 78,396.17 ly | | | | |
| #29 | Synuefe FM-T d4-32 (Ancient Plot) | 78,811.82 ly | | | | |
| #30 | CD-26 1339 (Robin's Egg Nebula) | 79,491.23 ly | | | | |
| #31 | Wregoe QD-K d8-144 (Red Cyclotron) | 80,452.81 ly | | | | |
| #32 | Nervi (Mount Nerverest) | 81,078.08 ly | | | | |