Starting date
Aug 22, 2021, 7:00:00 PM
Arrival date
Sep 26, 2021, 12:00:00 PM
Starting system
Algorab
Waypoints
27
Arrival system
Chi Hydrae
Participants
41 (39 registered on EDSM)
- Abandonment
21
- Success
18
Estimated distance
65,540.74 ly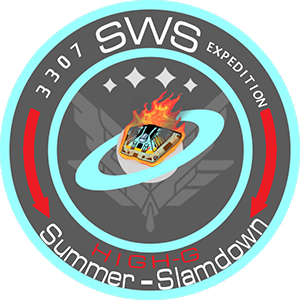 Expedition announce
Logo by CMDR Dragonfyre. (Dragonfyre#0305)
Expedition has been completed, but we will remain in a 2 week grace period for completion
Thanks for everyone to take part in, enjoy this feature video by CMDR AENROTH to commemorate the expedition.
Old news: WE GOT FEATURED IN FDEVS STREAM
EXPEDITION IN PROGRESS, YOU CAN CATCH UP EASILY WITH THE NEUTRON HIGHWAY
Important Links
(Essential for entering the contest/keeping track of the expedition) When joining the SWS discord and mention you are here for the expedition. You will be granted tags.
FROM ONE OF THE CREATORS OF ENTHUSIASTIC CHRISTMAS COLONIA TRIP, COMES THIS ABOMINATION
Welcome to the first Long range (66k ly) High Gravity Body landing TOUR, compatible with both Odyssey and Horizons (console players welcome)!
Daily destinations and challenges! You might also find yourself competing for 200$ worth in steam/Xbox/ps rewards using our GRAVITY bingo card system just by participating and checking out the expedition
Jump Aboard the SWS//CLOWN Hospital and any of our other authorized carriers currently orbiting Algorab A7 and visit 33 points of interest. With 1 or 2 points of interest every day. Fair warning, you might be sent to the hospital (die) plenty of times while participating in the expedition.
We will stumble upon extraordinary places to land, such as THE MIGHTY, THE LITHOBREAKER and THE MASS HOLE, and other cute, safe, and sensible high gravity destinations in the expedition in the trip. Where you will be at the risk of MEETING THE REBUY SCREEN or simply tell your friends, you survived to tell the HARROWING TALE. 1-2 DESTINATION/WAYPOINTS, every day.
For more information, please consult our travel guide and contest conditions on our Discord server. For participating, you must sign up on our expedition page in EDSM, our google form, and join our discord for the bingo cards set to release after our expedition mass launch in Sunday August the 15th.
We have our itinerary published
https://docs.google.com/spreadsheets/d/1BwtWRkWJ2gnV-LXzqNRws4h3maD6xuQrmtgSfLnkzuI/edit#gid=0
See you in the surface CMDR o7
Expedition timer
This expedition is finished.
Commanders self destructed
| | | | | | | |
| --- | --- | --- | --- | --- | --- | --- |
| #1 | Algorab | | | | | |
| #2 | NGC 5460 Sector DL-Y e6 (Six Rings 'o Silver) | 1,983.65 ly | | | | |
| #3 | NGC 6188 Sector LC-V c2-28 (Morgan's Rock / NGC 6188) | 4,745.74 ly | | | | |
| #4 | CSI-44-17417 (IC 4663) | 7,101.32 ly | | | | |
| #5 | Plio Aihm ML-P d5-307 (Angerona) | 10,749.37 ly | | | | |
| #6 | Blaa Hypai DR-V e2-16 (Bohr's Dice) | 13,478.70 ly | | | | |
| #7 | Chroabs TI-S d4-58 (Goliath) | 17,299.14 ly | | | | |
| #8 | Byua Ain XJ-A f2626 | 18,685.17 ly | | | | |
| #9 | XTE J1752-223 | 20,287.56 ly | | | | |
| #10 | Byua Aim AW-D d12-1612 (Vanra) | 21,655.04 ly | | | | |
| #11 | Byaa Airm JM-W f1-744 (Ebony and Ivory) | 23,549.36 ly | | | | |
| #12 | Iowhaik ZQ-C d13-320 (Arjun's Vault) | 25,784.06 ly | | | | |
| #13 | Dryoea Flyuae DA-A e1141 (Juego de Bolos) | 28,071.89 ly | | | | |
| #14 | Ogaicy TT-R e4-1619 (Blue Mite Nebula) | 30,973.99 ly | | | | |
| #15 | Eoch Pruae AG-O e6-2065 | 32,341.41 ly | | | | |
| #16 | Kyloall CL-Y g1518 (Lithobreaker) | 33,780.95 ly | | | | |
| #17 | Agnairt YU-Y f3281 (Uvhash) | 35,266.53 ly | | | | |
| #18 | Kyloalks DL-Y g17 (The Mighty) | 37,103.02 ly | | | | |
| #19 | Leamae YP-O e6-2428 (August Nebula) | 38,471.40 ly | | | | |
| #20 | Dryaea Flee ME-G c24-563 (Clown Nebula) | 40,020.90 ly | | | | |
| #21 | Eephaills AA-A g162 | 42,596.57 ly | | | | |
| #22 | Blue Eaewsy JN-S e4-247 | 45,332.47 ly | | | | |
| #23 | Clooku KM-W f1-177 | 50,412.32 ly | | | | |
| #24 | Prua Phoe RN-T e3-29 | 51,689.58 ly | | | | |
| #25 | Nyeajoa RE-F d12-74 | 55,422.08 ly | | | | |
| #26 | Eagle Sector IR-W d1-105 (Eagle Sector Secure Facility) | 57,743.95 ly | | | | |
| #27 | Pyramoe HR-V e2-11 | 59,599.64 ly | | | | |
| #28 | HD 148937 | 64,279.52 ly | | | | |
| #29 | Chi Hydrae | 65,540.74 ly | | | | |