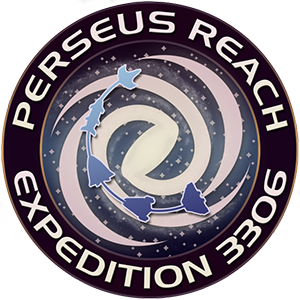 Expedition announce
This expedition aims to map the western side of the Perseus Arm, a mostly uncharted region space. Starting from the birthplace of humanity, we will embark on a long journey to the furthest starsystem we can reach in the Milkyway, where no other expedition has gone before! In order to prove that explorers don't need the biggest, fanciest ships to do long range exploration and even the smallest, most basic ships can do that just fine, this expedition will be restricted to small size ships only.
List of valid ships: Adder, Cobra Mk.III, Cobra Mk.IV, Diamondback Explorer, Diamondback Scout, Dolphin, Eagle, Hauler, Imperial Courier, Imperial Eagle, Sidewinder, Viper Mk.III, Viper Mk.IV, Vulture
We highly encourage people who want to take the DBX or Dolphin to enlist as Fuel Rats or Hull Seals.
Taking on the spirit of DECE, basecamps for meetups will be scouted during the expedition, while the set waypoints only act as markers for orientation. Schedule:
WP1 Sol Feb 8th
WP2 Bubble Sector PD-S b4-4 Feb 15th
WP3 Ridgue AW-E d11-68 Feb 22nd
WP4 Thraikoo PS-U e2-4 Mar 7th
WP5 Bya Phla WP-P e5-8 Mar 21st
WP6 Pha Flaae ZA-L d9-10 Apr 4th
WP7 Eolls Graae PG-E b15-4 Apr 11th
WP8 Hypao Brai XJ-R c20-2 Apr 18th
WP9 Myoangooe AA-A h1 May 2nd
WP10 Auphaigh CL-Y g1 May 16th
WP11 Slaiyooe OX-L d7-0 May 30th
WP12 Cheae Euq ER-L c21-0 June 6th
WP13 Oevasy SG-Y d0 June 13th
Discord: https://discord.gg/VQfwPBV You will need a minimum jump range of 41.34ly to complete this expedition + several jumponium injections!
o7 CMDR Dr.Nagi
Expedition timer
This expedition is finished.
Commanders self destructed
| | | | | | | |
| --- | --- | --- | --- | --- | --- | --- |
| #1 | Sol | | | | | |
| #2 | Bubble Sector PD-S b4-4 (Bubble Nebula) | 7,096.22 ly | | | | |
| #3 | Ridgue AW-E d11-68 (Eastern Via Maris Depot) | 13,142.27 ly | | | | |
| #4 | Thraikoo PS-U e2-4 (DSSA Inverness / Thracian Nebula) | 22,658.91 ly | | | | |
| #5 | Bya Phla WP-P e5-8 (Vulcan Triad) | 30,847.95 ly | | | | |
| #6 | Pha Flaae ZA-L d9-10 (DSSA HSRC Meow Force One) | 40,904.97 ly | | | | |
| #7 | Eolls Graae PG-E b15-4 (Bendurion's Present) | 47,834.04 ly | | | | |
| #8 | Hypao Brai XJ-R c20-2 (Door to Heaven) | 54,778.05 ly | | | | |
| #9 | Myoangooe AA-A h1 (Throne Of Marduk) | 62,314.04 ly | | | | |
| #10 | Auphaigh CL-Y g1 (Dante's Inferno) | 71,533.42 ly | | | | |
| #11 | Slaiyooe OX-L d7-0 (Thomaski Point Memorial) | 82,221.83 ly | | | | |
| #12 | Cheae Euq ER-L c21-0 (Grand Rings) | 86,136.53 ly | | | | |
| #13 | Oevasy SG-Y d0 (Semotus Beacon & Salomé's Reach) | 90,979.21 ly | | | | |