Name:
Deep Space Network
Allegiance:
Independent
Government:
Cooperative
Members: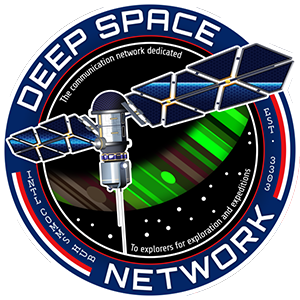 DEEP SPACE NETWORK (version française)
<< Le réseau de communication dédié aux explorateurs pour l'exploration et les expéditions >>
L'idée de créer un réseau de communication francophone tel que celui-ci provient du succès qu'a pu avoir la Summer Great Expedition 3303. Cette plateforme d'échange a permis à de nombreux explorateurs de toutes les communautés, francophone et internationale (anglophone et germanophone), de se retrouver en un seul endroit afin de partager des informations, des lieux, des astuces, des projets, etc...
Les objectifs sont dans un premier temps de permettre à quiconque, souhaitant avoir des informations, effectuer une exploration, créer une expédition, d'avoir un endroit ou pouvoir partager ses découvertes et ses futurs projets. Dans un second temps regrouper tous les explorateurs francophone en un seul et même endroit.
Deep Space Network (DSN) n'est lié à aucune faction, aucun groupe, aucune corporation, il est indépendant et neutre. Il n'a pas de leader, il est constitué seulement d'explorateurs. Sa vocation n'est pas la politique. Tous ses membres sont issus de divers milieux ; Empire, Fédération, Alliance, Indépendants, mais ils n'ont aucun intérêt, ni aucune influence sur le réseau.
Tout le monde est le bienvenu sur le réseau tant que vos intentions sont liées d'une part ou d'une autre à l'exploration et/ou aux expéditions. C'est un endroit de partages et d'échanges.
Sur le DSN vous pouvez avoir des informations diverses et variées ou des acteurs de projets notamment liés à l'exploration comme par exemple le Galactic Mapping Project en lien avec Elite: Dangerous Star Map. Vous pouvez également retrouver une section dédiée à l'élaboration de vaisseaux en tout genre avec la participation de tout un chacun pour s'aider les uns les autres dans l'optimisation des appareils.
N'attendez plus, rejoignez le Deep Space Network !
Accès au discord : https://discord.gg/Hw6SvH2
---
DEEP SPACE NETWORK (English version)
<< The communication network dedicated to explorers for exploration and expeditions >>
The idea of creating a French communication network such as this stems from the success of the Summer Great Expedition 3303. This exchange platform enabled many explorers from all communities, both French-speaking and international (English-speaking and German-speaking), to meet in one place to share information, places, tricks, projects, etc...
The objectives are to allow anyone who wishes to have information, to make an exploration, to create an expedition, to have a place or to be able to share their discoveries and their future projects. In a second time, all french-speaking explorers are grouped together in one place.
Deep Space Network (DSN) is not linked to any faction, no group, no corporation, it is independent and neutral. It has no leader, it consists only of explorers. His vocation is not politics. All its members come from various backgrounds; Empire, Federation, Alliance, Independents, but they have no interest or influence on the network.
Everyone is welcome on the network as long as your intentions are linked to exploration and / or expeditions on one side or the other. It is a place of sharing and exchanges.
On the DSN you can have diverse and varied information or actors of projects related to exploration such as the Galactic Mapping Project in connection with Elite: Dangerous Star Map. You can also find a section dedicated to the development of ships of all kinds with the participation of everyone to help each other in the optimization of the aircraft.
Don't wait any longer, join the Deep Space Network !
Access to Discord : https://discord.gg/Hw6SvH2