Starting date
Feb 1, 2023, 10:00:00 PM
Arrival date
Mar 31, 2023, 12:00:00 PM
Starting system
54 Ceti
Waypoints
26
Arrival system
Tarach Tor
Participants
19
- Abandonment
2
- Success
0
Estimated distance
90,806.55 ly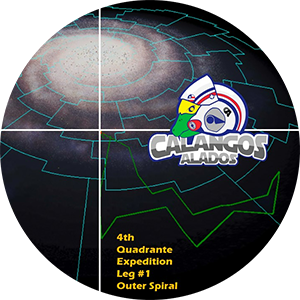 Expedition announce
Briefing
My name is CMDR Luciano Kalabric. This is the first time I am leading an expedition and I intend to do my best to learn how to make a game in the game! We hope we get lots of CMDRs interested in sharing your expertise and enjoying discovering new horizons together! Bring as many ships as you like to diversify your experience. During the expedition, I intend to create a game-in-game where we will be able to explore, navigate, race, and mine together. The great challenge of this expedition is to go where no one went before!
UTC time and official language
Since this expedition is international we need to think globally. Then we are going to use the UTC time https://time.is/UTC and English as our official time and language. To convert UTC time to local time, add the corresponding local UTC offset to the UTC times from our schedule (for example, 22:00 UTC -3 is equal to 19:00 São Paulo time). If the other CMDRs speak your native language, feel free to communicate in that language (for example, if you are fluent in Klingon speak Klingon. I do not speak Klingon and I will not be able to help you if this is your only language :)
Discord server (22:00 UTC)
Let´s have a pre-expedition meeting on January 30th and 31st at 22:00 UTC time at the Discord server https://discord.gg/quZ7NCU7HQ to adjust details to the departure. Actually, I will try to be available every day at 22:00 UTC time on this server during the expedition. You will be able to meet with me regularly at this time and/or with other CMDRs at another time convenient to you (make your own schedules). This server has been shared with me to organize the expedition. This server will be available at any time. However, to keep the immersion of the expedition and not interfere with other players' games I ask you all to meet exclusively in the channels created in the ED Expedition section (channels: cmdrs-log, bar-talk, gallery, voice-comms, flight-assistance).
Registration form
https://forms.gle/U7DH7nRGsXTpt2CTA
Flight plan and more
We will leave on the fleet carrier Calangos 2, anchored in the 54 Ceti system on February 1st, promptly at 22:00 UTC time (19:00 São Paulo time). At a minimum, you should bring an exploration ship with an SVR and the Artemis suit. However, we advise you to take as many ships as you like, not least because they can store modules that you can use/test other equipment configurations (we'll discuss this in the pre-expedition meeting). As a general rule, be on board 15 minutes before departure. If you miss the FC jump we will not be able to wait/return to pick anyone up (we will talk about this too). https://docs.google.com/spreadsheets/d/e/2PACX-1vTq6rgM7rzwMV_Gn-UyXh3IUQ6tyg7bz-ML7IGwLZX0uZFtrHTk4M5gyiOPHOl9lajFH7nI87ESyXwS/pubhtml.
IMPORTANT LATE ANNOUNCEMENT: CMDR Tim2510 will depart from 54 Ceti with the fleet carrier Equinox 2 on a follow-up maneuver two days after us to catch up with stragglers. Please, do not miss your second chance:)
Expedition timer
Remaining expedition time
Commanders self destructed
| | | | | | | |
| --- | --- | --- | --- | --- | --- | --- |
| #1 | 54 Ceti | | | | | |
| #2 | BD-12 1172 (Spirograph Nebula) | 1,034.43 ly | | | | |
| #3 | HD 76133 (Anaconda's Graveyard) | 3,793.17 ly | | | | |
| #4 | Cyoidai GH-U e3-3 (Sunny Side Down (Planetary Nebula) / Cyoidai GH-U Supernova Remnant) | 8,902.82 ly | | | | |
| #5 | Crab Pulsar | 9,484.12 ly | | | | |
| #6 | Dryaa Phoe WV-C d0 (Serebrov Beacon) | 12,653.90 ly | | | | |
| #7 | Hyueths HS-H d11-5 (DSSA DLNV Leo's Vision / The Twins' Garden) | 15,498.42 ly | | | | |
| #8 | Hypuae Euq SY-S d3-0 (Livingstone Point) | 18,764.58 ly | | | | |
| #9 | Aidohs JI-A d14-0 (The Aidohs Platforms) | 21,708.13 ly | | | | |
| #10 | Dryau Aec JF-A d11 (DSSA Right Ascension) | 28,397.26 ly | | | | |
| #11 | Hypoe Dryou FR-B b47-0 (New Zealand Cluster) | 31,623.92 ly | | | | |
| #12 | Lyed YJ-I d9-0 (Amundsen's Star) | 33,374.06 ly | | | | |
| #13 | Eorgh Hypa RR-U c19-0 | 40,798.89 ly | | | | |
| #14 | Angosk DL-P d5-0 (Distant Angosk) | 45,581.90 ly | | | | |
| #15 | Jongoae UX-L d7-0 | 50,749.88 ly | | | | |
| #16 | Hypao Aed ZJ-A d0 | 51,525.92 ly | | | | |
| #17 | Hypau Aec IO-Z d13-0 (DSSA Explorer's Bar & Grill / Arms End) | 53,202.48 ly | | | | |
| #18 | Jongoae MI-B d13-1 (Hansel and Gretel) | 55,604.15 ly | | | | |
| #19 | Eocs Aihm XX-U d2-6 (DSSA Aristarchos) | 58,659.83 ly | | | | |
| #20 | Dryu Aescs TS-U d2-7 | 64,424.79 ly | | | | |
| #21 | Wimly LN-B d0 (Ice on fire) | 66,301.07 ly | | | | |
| #22 | Spliem LH-U b16-0 (Halfway To Anywhere) | 70,041.82 ly | | | | |
| #23 | Jongoi MF-A d0 (Monoceros Beacon) | 73,947.59 ly | | | | |
| #24 | Groerld IL-P d5-0 (Groerld Association) | 76,936.42 ly | | | | |
| #25 | NGC 2286 Sector WD-T d3-1 (NGC 2286) | 80,383.38 ly | | | | |
| #26 | FAUST 1521 (NGC 2440) | 85,064.80 ly | | | | |
| #27 | Col 285 Sector GG-N c7-34 | 90,593.42 ly | | | | |
| #28 | Tarach Tor | 90,806.55 ly | | | | |