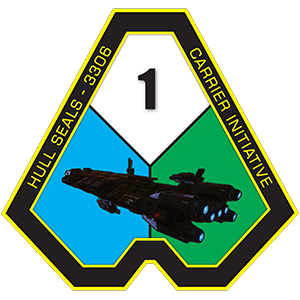 Expedition announce
WELCOME to The Long Arf!
The Long Arf is an expedition by the Hull Seals, an organization dedicated to helping out stranded CMDRs and fixing up their hulls from damage - anywhere, anytime.
The expedition will center around the deployment of the first of our three Fleet Carriers to the Ryker's Hope region of the galaxy, at Distant Worlds 2 Waypoint 9, an homage to the trip that gave rise to our organization. This carrier, named the HSRC Limpet's Call, will serve as the flagship of the Seal fleet and our organization's galactic headquarters.
The expedition will launch from the furthest carrier dock in the black, at Colonia, and head galactic north toward deployment, via Odin's Hold in a challenging voyage of logistics, exploration, scientific research, and camaraderie. The journey will be marked with a narrative journey, including the introduction of the whole crew of the HSRC Limpet's Call, and the adventures as she journies through the stars to her home, and exploring the broad field of activities available within Elite: Dangerous. These activities include fighter jousting (held outside travel PGs), SRV exploration, canyon racing, High-Gravity Landing competitions, mass-jumps, and more!
All the information for our expedition, including how to join, what the expedition is about, our Discord server, resources, FAQ, and more can be found at https://HullSeals.space/TLA.
Welcome onboard the Limpet's Call, CMDR!
Expedition timer
This expedition is finished.
Commanders self destructed
| | | | | | | |
| --- | --- | --- | --- | --- | --- | --- |
| #1 | Colonia (Jaques Station / Colonia (System) / Animula Spires / The Mosta-Murdoch Raceway) | | | | | |
| #2 | Eol Prou KW-M d7-2351 (Six Sisters) | 515.82 ly | | | | |
| #3 | Eoch Pruae EG-Y g1769 (Sceadu) | 1,269.14 ly | | | | |
| #4 | Schee Flyuae UO-A e5581 (Schee Flyuae Subway Alpha) | 3,082.94 ly | | | | |
| #5 | Wepae EG-Y g1378 (The Boxing Ring) | 5,391.38 ly | | | | |
| #6 | Scheau Pri FW-N e6-43 (The Hendrix Nebula) | 7,331.86 ly | | | | |
| #7 | Juenoi WB-J c23-256 | 8,796.27 ly | | | | |
| #8 | Systimbo ZA-O e6-1528 (The Dewdrop Nebula) | 10,599.84 ly | | | | |
| #9 | Umbairrs QQ-N c7-457 | 12,513.90 ly | | | | |
| #10 | Eok Gree EG-Y g1846 (Janus' Vision) | 13,431.45 ly | | | | |
| #11 | Braireau EX-J b39-15 | 14,736.89 ly | | | | |
| #12 | Hypoe Bluae YJ-F b57-11 | 16,613.35 ly | | | | |
| #13 | Phroi Bluae HS-D b15-1 | 17,107.51 ly | | | | |
| #14 | Phroi Bluae QI-T e3-3454 (DSSA HSRC Limpet's Call / Cerulean Tranquility) | 17,583.19 ly | | | | |