CMDR Sagittarios profile > Logbook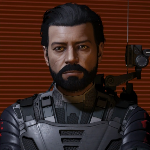 Current ship:
DSS ASSO DEI CIELI [ASDC-1]
(Krait Phantom)
Member since:
Jun 26, 2018
Systems discovered first:
15 Journey from Sol to Beagle Point starts today
Captain's Log, stardate 330801.27.
DSS Asso dei Cieli is ready to the longest journey in my whole space career. I believe, that I prepared myself as best as I only can and nothing is able to suprise me on my trip to Beagle Point. I have been waiting a long time to make yourself brave enough, but today is a day. So, let's not waste more time - the Beagle Point awaits.