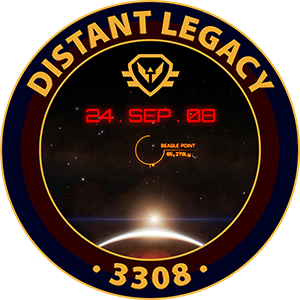 Expedition announce
Leaving from Pallaeni, Distant Legacy is an homage to the Distant Worlds expeditions of the past, and a final sendoff for our console CMDRs and the Horizons platform. We've combined the best of Distant Worlds 2, the Heart of the Storm, the Perseus Reach, and the Great Return expeditions into a 110,000 light year journey across the best sights the game has to offer.
We're open to all players on PC, Xbox, and PS4. Unlike previous Distant Worlds expeditions, this operation is carrier supported. The Toby's Rest (X6J-14V) is currently parked in orbit of Interplanetary Explorations headquarters in HIP 2453. At the start of the expedition, it'll move to Pallaeni, and then become our mobile base of operations throughout the expedition.
Transport is free and without obligation or expectation, so if you missed Distant Worlds 2 because you didn't have the time to complete the expedition in-game, give Distant Legacy a try! You can ride the carrier to each waypoint and explore at your convenience and leisure.
Join us on Discord! We're chatting and preparing for the launch right now, and we'd love to have you!
Discord
https://distantlegacy.com/discord
Expedition Carrier
Toby's Rest (X6J-14V), currently at HIP 2453
Start Date
24th September
Finish Date
July
Expedition timer
Remaining expedition time
Commanders self destructed
| | | | | | | |
| --- | --- | --- | --- | --- | --- | --- |
| #1 | Pallaeni | | | | | |
| #2 | HIP 58832 (Rackham's Peak) | 5,421.47 ly | | | | |
| #3 | Omega Sector VE-Q b5-15 (Omega Mining Operation) | 13,930.50 ly | | | | |
| #4 | Rohini (Eudaemon Anchorage) | 16,433.24 ly | | | | |
| #5 | Pru Aescs NC-M d7-192 | 18,131.83 ly | | | | |
| #6 | Skaude AA-A h294 (Skaude (Collection of Wonders)) | 20,786.77 ly | | | | |
| #7 | Byua Aim AA-A h24 | 27,038.54 ly | | | | |
| #8 | Eeshorks BA-A g2179 | 32,600.37 ly | | | | |
| #9 | Kyli Flyuae AA-A h4 (Vahsel Point) | 40,275.40 ly | | | | |
| #10 | Dryau Ausms KG-Y e3390 (DSSA Buurian Anchorage / The Dryau Awesomes) | 45,687.00 ly | | | | |
| #11 | Stuemeae FG-Y d7561 (Explorer's Anchorage) | 51,025.33 ly | | | | |
| #12 | Swoals IL-Y e0 (Goliath's Rest) | 58,481.23 ly | | | | |
| #13 | Hypoe Bluae VP-O e6-8688 (Dances with Giants) | 63,021.00 ly | | | | |
| #14 | Vegnoae WE-R e4-9257 (Eos Nebula) | 66,528.50 ly | | | | |
| #15 | Myaumia ZF-W d2-30 (Spectacle Rings) | 76,606.68 ly | | | | |
| #16 | Auphaigh CL-Y g1 (Dante's Inferno) | 86,462.44 ly | | | | |
| #17 | Nyauthai AA-A h0 (Nyauthai Beacon) | 91,913.81 ly | | | | |
| #18 | Cliewoae NT-F d12-0 (Abyssinial Hidden Paradise) | 97,684.94 ly | | | | |
| #19 | Slaiyooe OX-L d7-0 (Thomaski Point Memorial) | 102,118.55 ly | | | | |
| #20 | Cheae Euq ER-L c21-0 (Grand Rings) | 106,033.25 ly | | | | |
| #21 | Beagle Point (DSSA Distant Worlds 'Endeavour') | 110,384.25 ly | | | | |